City of Morro Bay
The City of Morro Bay has set up discretionary funds for our Councilmembers and Mayor. It is through that funding program that many of our projects came to life.
Since the onset of our Foundation the City staff and our elected officials have enthusiastically supported us and in particular our mini park & mural projects. Our Foundation would not exist if it were not for the City of Morro Bay's support of the arts and Public Art in particular.

Duke Energy
Duke Energy in Morro Bay CA was one of our first sponsors. They helped kick off our very first project. Jeff Odell's " Moon, Sky,Boats, Water" at the Back Stage Salon was made possible by a generous grant from Duke Energy.Their grant and the support of our fellow Morro Bay citizens who donated generously helped create the beginnings of our public art growth in our city.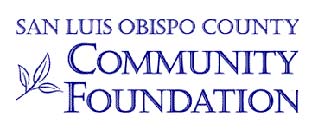 San Luis Obispo Community Foundation
San Luis Obispo County Community Foundation has been formed as a public trust that was established to assist donors in building an enduring source of charitable funds to meet the changing needs and interests of the community. Once a year they offer opportunities to apply for grant funding for the arts. We have been very fortunate to recive grants through their endowment programs. We thank them for their support and generosity.

Infoville Web Services
Creators of this website and other community websites. Such as www.morro-bay.net

San Luis Obispo County Arts Council
We wish to thank the San Luis Obispo County Arts Council for their generous support of the Morro Bay Public Art Foundation. They were a very valuable mentor when we were setting up our Foundation and a very valuable source of funding through their public art grants program.

eAfricaGallery.com
eAfricaGallery.com donated the beautiful metal bird sculptures used in our "Shore Birds" project at the corner of Harbor and Front Streets.