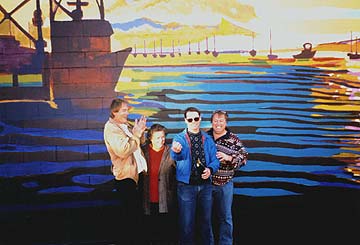 Morro Bay Public Art Foundation is a California nonprofit public benefit corporation which is recognized by the IRS under Section 501(c)(3). It was formed in 2000 by a small group of art loving citizens in Morro Bay, California. Morro Bay Public Art Foundation is funded entirely through public and private monetary donations. It also thrives on the generous donation of time and materials from its artists as well as its public and private supporters. If you are interested in supporting MBPAF, please contact us. If you would like to know more - here's a handy reference which you can print (89k). It will show you the locations of MBPAF projects and provide you with a reading list as well as more web links. (Requires Adobe Acrobat Reader which you can download for free from Adobe)
Officers & Directors
President

Neil Farrell, Morro Bay, Ca.

Vice-President

Nancy Barta, Morro Bay, Ca.

Secretary/Treasurer

Marilynn Brandmeyer, Morro Bay, Ca.

Director

Lorraine Rendon, Morro Bay, Ca.

Photo (Left to Right) - Roger Ewing, Nancy Barta, Jeff Odell, Neil Farrell.

Not shown -

Lorraine Rendon

, Marilynn Brandmeyer
PROGRAM GOALS
To ensure that Morro Bay's Public Art is of high quality and is clearly viewed as art and does not bridge a gap into an appearance of a sign or business logo.
To identify potential artists that are willing to participate and be considered as a contributing artist in a mural project, outdoor sculpture site, or performing arts event.
To identify potential sites that we would like to lobby for and seek permission for consideration for inclusion in a public art project
No advertising language, logos, or replication of products sold, rented, or leased will be allowed on the public art.